6GEM@INTERSCHUTZ 2022: Demonstrating the potential of the future Rescue Robotics Metaverse
-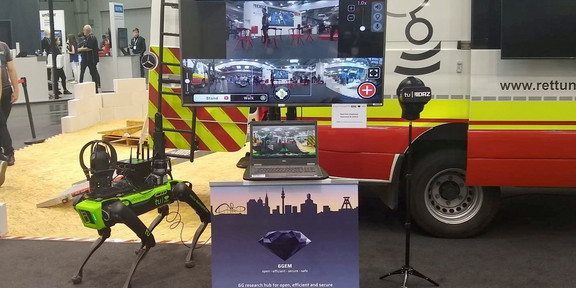 CNI presents the 6GEM vision of future immersive control of robots in rescue missions by first responders on the DRZ booth at INTERSCHUTZ 2022.
Within the German research hub on 6G, 6GEM, TU Dortmund/CNI contributes to the development of future mobile networks of the 6th generation. Those 6G networks are expected to be introduced after 2030. Within the 6GEM test field rescue robotics such future technologies shall be validated in specifically challenging application environments. At INTERSCHUTZ 2022, CNI shows one of its legged robots in conjunction with a 360 degree video transmission as well as additional sensor streams (see picture taken at the DRZ booth at INTERSCHUTZ 2022). By viewing the high definition video stream of an incident scene from a safe distance, first reponders gain detailed immersive situational awareness and are enabled to guide the robot to the areas of interest without endangering humans.
In order to gain better insight from practioners in the concrete requirements of the area of rescue robotics and desaster management, a questionnaire has been launched on the occasion of INTERSCHUTZ 2022. Participants of INTERSCHUTZ 2022 but also any other stakeholders of the first responder domain are invited to provide there view on the requirements of future wireless communication systems: Link to questionnaire "Shaping the future of mobile communications: Requirements of First Responders".
In addition to its 6GEM show case, TU Dortmund/CNI supports the presentation of various research projects, which focus on the improvement of technical support of rescue personnel:
TU Dortmund thankfully acknowledges the support by the Federal Ministry for Research (BMBF) for the projects 6GEM, A-DRZ and CELIDON.