5Guarantee - Agile system for end-to-end performance guarantees in local 5G networks fully embedded in the industry 4.0 process landscape
The 5Guarantee project explores an agile system for continuous, cross-network monitoring of end-to-end guarantees in terms of throughput, latency, reliability and data security of 5G campus networks. While isolated measurements at the time of installation often reveal the expected peak performance values, 5Guarantee examines in particular the possibility of a spatially distributed stress test that actively monitors network quality on a continuous basis, regardless of whether the 5G network is provided by a network operator as part of a "managed" solution or a "standalone" network is operated by the manufacturing company under its own responsibility.
Project duration: 01.01.2021 - 31.12.2023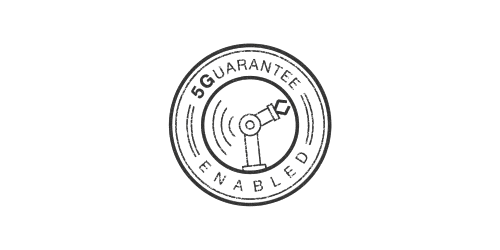 The 5Guarantee project focuses on the operational requirements of the participating manufacturing companies, which results in the fact that network quality functions are not integrated into the corporate landscape through the classic telco network management interfaces, but through appropriately adapted Industry 4.0 interfaces.
The ambitious goals of the project are being realized under the leadership of the independent consulting company WIK-Consult in cooperation with renowned manufacturing companies in NRW (Weidmüller and Miele as key partners, Wilo, KOSTAL, Busch-Jaeger, Gigaset and Schmersal affiliated) with the involvement of innovative start-ups for addressing IT security as well as functional safety (PHYSEC, Comnovo) and universities proven in the topic area of 5G and automated production (TU Dortmund, Ruhr University Bochum). The result is a highly innovative management system for demand-oriented 5G campus networks, which has been comprehensively validated from various perspectives in a practical manner.
In 5Guarantee, CNI focuses on the development of a continuous monitoring & control system for local 5G campus networks, which is also able to support centrally controlled load generation. This is particularly relevant with regard to stress tests and serves the critical comparison of promoted 5G potentials with achievable values in industrial practice.
This project is funded by means of the Federal State NRW by the Ministry for Economic Affairs, Innovation, Digitalization and Energy (MWIDE) under grant number 005-2008-0046.

Funding Programm
Funding Competition 5G.NRW by means of the Federal State NRW by the Ministry for Economic Affairs, Innovation, Digitalization and Energy (MWIDE)
Project duration
01.01.2021 - 31.12.2023 (36 months)
Project Partner
WIK-Consult GmbH
Weidmüller Interface GmbH & Co. KG
Miele & Cie. KG
PHYSEC GmbH
Comnovo GmbH
Ruhr-Universität Bochum
Technische Universität Dortmund, Communication Networks Institute
Affiliated Partners
Vodafone GmbH
Schmersal GmbH & Co. KG
Wilo SE
Busch-Jaeger Elektro GmbH
Gigaset Communications GmbH
Leopold Kostal GmbH & Co.KG