BMBF 6G research hub "6GEM" visits DRZ Living Lab for evaluation experiments
-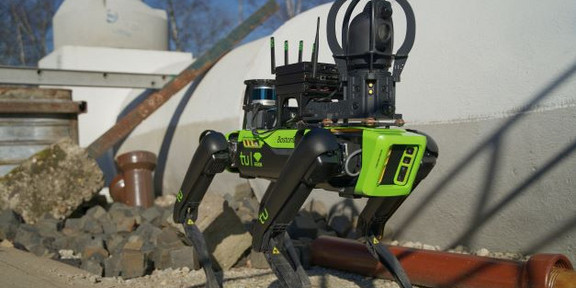 Which added value can future 6G mobile communications systems provide for highly relevant use cases in society and industry? This is one of the questions that the 6G Research Hub "6GEM", funded by the German Federal Ministry of Education and Research (BMBF), is addressing since August 2021. One of the seven test fields in which different facets of 6G innovation are being tested is the German Rescue Robotics Center (DRZ), which is also funded by the BMBF. Just recently, TU Dortmund University has conducted initial tests with its new robot system in the DRZ environment. The tests focused on maintaining communication between the ground robot and the control system in a Search & Rescue mission. Various aspects of the test setup in the DRZ outdoor environment were used for this purpose. Here, the wireless communication systems investigated in 6GEM meet complex evaluation environments for testing of tasks in rescue and disaster areas, which enable the mapping of realistic and radio challenging environments through collapse scenarios, tunnel systems or containers.
In the 6GEM project, TU Dortmund University is using agile and all-terrain walking robots as a platform to gradually develop novel communication modules and methods in particularly challenging radio environments. The goal of the successful first test experiments was a reliable provision of sensor information provided by the walking robot based on an advanced multi-link approach. The results of the experiments will soon be presented in a scientific publication.
The Living Lab of the DRZ is ideal for experiments and tests with robotic systems. Having been created as a physical infrastructure in the BMBF project "Establishment of the German Rescue Robotics Center", its capacities are now available for research, application and industry.
Contact for this news:
Prof. Dr.-Ing. Christian Wietfeld, TU Dortmund, Communication Networks Institute
Web: www.cni.tu.dortmund.de
Further information on the research initiatives can be found here:
Web: www.6gem.de