CNI @ VTC-Spring 2023
CNI scientists present recent research results at IEEE VTC Conference Spring 2023
-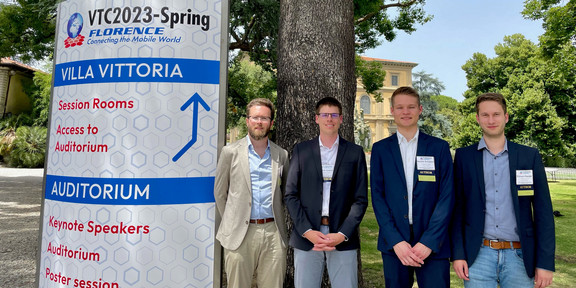 Four CNI papers on the design and performance evaluation of very reliable wireless communications and highly accurate positioning have been presented at the IEEE Vehicular Technology Conference (VTC-Spring) which was held for the 97th time this year, covering topics in wireless, mobile, and vehicular technologies. The conference is organized by the IEEE Vehicular Technology Society (VTS). As the biannual flagship conference of the IEEE VTS, this year's VTC event brought together about 600 people from research, industry and standardization from around the world for four days in Florence to share and discuss new ideas and insights.
CNI researchers have been regularly attending the conference and have gained several awards throughout the years.
The work presented at VTC is the result of a number of different research projects which are partially funded by various ministries, in particular the Federal Ministry of Education and Research (BMBF), the Federal Ministry of Transport and Digital Infrastructure (BMVI), and the Ministry for Economic Affairs, Industry, Climate Action and Energy (MWIKE) of the state NRW. The support is gratefully acknowledged.
The following papers were presented to the audience: