Keynote @ VDE Mobile Communication Conference
Keynote on future multi-dimensional wireless networking solutions
-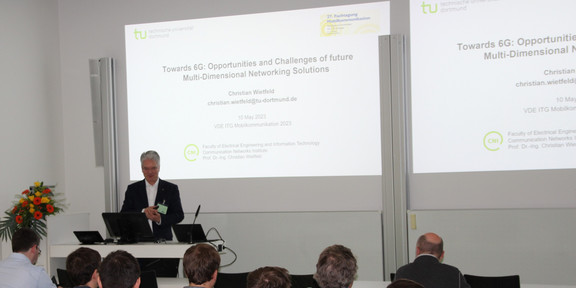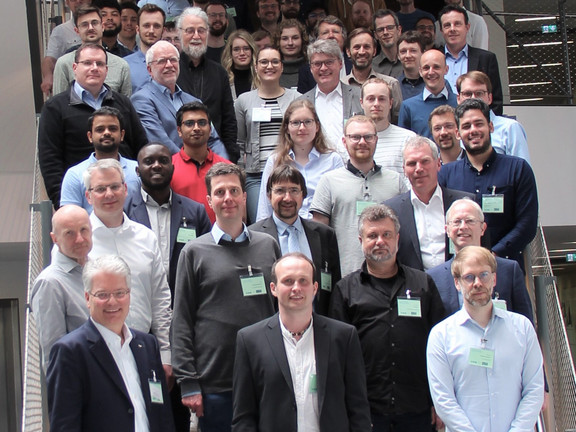 Prof. Christian Wietfeld provided the first keynote of this year's 27th VDE Mobile Communication Conference at Osnabrück on 6G networking research. Further keynotes were provided by colleagues from Nokia, Ericsson, MECSware and HU Berlin. In his talk, Christian Wietfeld presented highlights of the on-going research at CNI related to 5G and 6G networks, such as the openSAMUS approach for predictive networking slicing, the Ground Truth KPI Monitoring & Prediction enabled by STING, the DraGon approach for Data-driven Accurate Channel Prediction and CNI's solution for enabling programmable mmWaveRadio environments through the passive HELIOS reflectors.
The slide set is available on the conference website.
Providing the keynote at the VDE conference was a special honor for Prof. Wietfeld, because he gave a talk as PhD student 28 years ago at one of the first editions of the conference series:
C. Wietfeld, "Performance Evaluation of Short-Range Communication Links for Road Transport & Traffic Telematics", In ITG-Fachtagung Mobile Kommunikation, Ulm, September 1995. (Neu-Ulm, VDE-ITG, VDE-Verlag).