CNI congratulates Melina Geis, Tim Gebauer, and Cedrik Schüler for receiving prestigious awards for their master's theses
-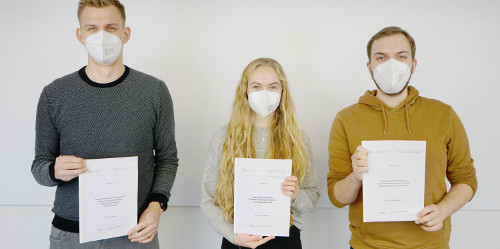 We are very happy to announce that three of our previous students, who have all become researchers at the Communication Networks Institute, have received prestigious awards for their respective master's theses.
Melina Geis has received the ABB Förderpreis 2021 during the graduates farewell of the TU Dortmund university at november 28th. Within her thesis "Deep Learning-Based Radio Propagation Modeling and Prediction Using Geographical Data", she has investigated the usage of deep learning methods for extracting latent radio channel information from geographical images. For this purpose, the proposed novel method "Deep RAdio channel modeling from GeOinformatioN" (DRaGon) utilizes a three-dimensional environmental model that is constructed from various data sources. By bringing together machine learning analysis with expert knowledge from the communications domain, a path loss correction offset is learned. In comparison to well-established methods such as ray tracing, the proposed approach allows to achieve a significantly better prediction accuracy.
The results of the thesis have already been accepted for publication at the prestigious IEEE Wireless Communications and Networking Conference (WCNC) 2022. A preprint of the manuscript is available on arXiv.
Tim Gebauer has received the Best of the Year Award 2021 of the Society of Friends of the Technical University of Dortmund e.V.. In his thesis "Modeling and Dimensioning of Future Narrowband Internet of Things Mobile Communication Networks", the novel mobile radio technology NB-loT (Narrowband - Internet of Things) has been evaluated, which is used to connect the constantly growing number of loT sensors over long distances with high scalability and energy efficiency. Within the scope of this work, a multi-scale simulation model was created for a comprehensive performance analysis of the numerous implementations of NB-loT. Based on this, realistic scenarios were investigated, especially with an increasing number of sensors, and recommendations for an appropriate dimensioning of mobile networks were derived. Furthermore, it was possible to evaluate future scenarios with extreme requirements and thus to explore scalability limits.
A paper submission based on this work is current in preparation.
Cedrik Schüler has received the Absolventenpreis 2021 of the VDE Rhein-Ruhr at December 16th. In his thesis "Design and Performance Evaluation of a Reinforcement Learning-Based Mobile Ad-Hoc Network Routing Protocol", he has proposed "Predictive Ad-hoc Routing fueled by Reinforcement learning and Trajectory knowledge" (PARRoT) as a novel mobility-prediction routing method for highly mobile communication scenarios such as aerial and ground-based vehicular networking. For the determination of robust end-to-end communication paths, PARRoT takes the predicted future mobility of the mesh nodes into account and implements a reinforcement learning-enabled routing strategy. As shown in a comprehensive performance evaluation, PARRoT significantly outperforms well-established routing methods such as Ad-hoc On-demand Distance Vector (AODV), Optimized Link State Routing (OLSR), and Better Approach To Mobile Ad-hoc Networking (B.A.T.M.A.N.)
The results of the thesis have already been presented at the prestigious IEEE Vehicular Technology Conference (VTC2021-Spring), where it has also been awarded with a Best Student Paper Award. The final manuscript is digitally available via IEEExplore.